Home
>> Products
O rings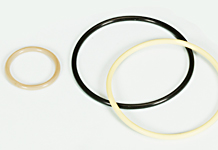 "O ring" refers to round packing with a circular cross section (an "O" shape). Normally, O rings are mounted in grooves and subject to a moderate level of compression, generating stress to create a seal.
Air Water Mach Inc. keeps a wide variety of materials in stock for use in any application.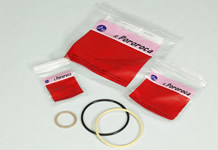 Features
Take up little space due to the small volume of the mounting area
Simple construction for easy installation and removal
Large variety of materials, for use in a wide range of temperatures (-60 degrees centigrade to +220 degrees centigrade)
Can create a seal from alternating pressure against both surfaces
Less expensive than other packing
Less expensive than other packing
R.Echo Perfluor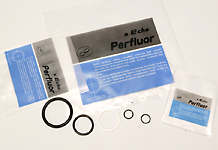 R.Echo Perfluor is an ultrahigh performance fluorine-containing rubber developed independently by Air Water Mach Inc. It is a revolutionary type of synthetic rubber that maintains the properties of conventional fluorine-containing rubber, while also allowing usage nearly identical to fluorine resins (Teflon) under severe conditions thought impossible with conventional rubber, such as organic polar solvents, various chemicals, acids, and alkalines.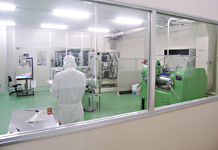 This synthetic rubber can be used in a wide range of temperatures, and shows superior numerical results for resistance to steam, even for synthetic rubber. Therefore, it can be used in areas where previously only fluorine resin and metal packing were possible. Compared to other types of rubber, very little discharged gas is generated, making it suitable as seal material for manufacturing equipment such as semiconductors. The kneading, shaping, washing, and packaging processes of R.Echo Perfluor are all performed in clean rooms.
Features
Superior resistance to chemicals, solvents, and oils
Applicable in a wide range of temperatures (heat resistance +220 degrees centigrade)
Superior low-temperature characteristics (maintains elasticity at a low temperature of -20 degrees centigrade)
Superior electrical characteristics
Superior food safety (compliant with the Food Sanitation Act)
Manufacture of special shapes (molds, sheets, round bars, etc.) is possible.
Fluorine resin products
PTFE (PolyTetraFluoroEthylene), a type of super engineering plastic, is a fluorine resin that is often referred to by its brand name, Teflon. It has superior resistance to heat, as well as the lowest wear coefficient of any plastic. A variety of products with special characteristics can be created by injecting various materials into PTFE.
Backup Rings
Backup rings prevent O rings from protruding out through gaps and becoming damaged. Further, they prevent "pulling" and "twisting", which are the most common causes of damage to O rings, effectively prolonging the life of O rings.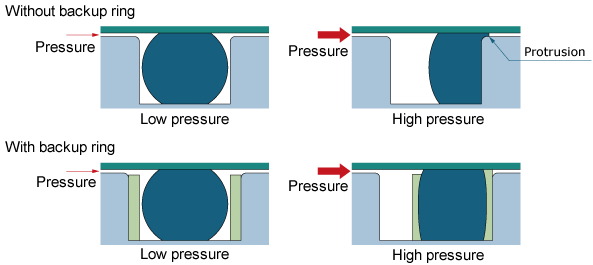 Slipper Seals
Reciprocating motion and rotational motion on a seal produce a high risk of damage to O rings. The use of PTFE slipper seals on the moving parts of O rings has a number of benefits over the use of O rings alone.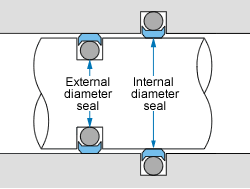 V Packing
V packing is a typical type of automated seal-shaped packing. These seals are used on axles and the inner walls of stuffing boxes through the application of internal pressure on the V-shaped lip. This packing can be used effectively due to its comparatively low tightening pressure and low wearing characteristics.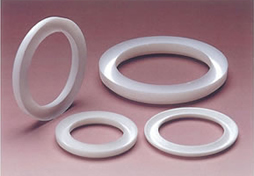 Lip Seal Packing
Lip seal packing is extremely effective with corrosive liquids and various solvents.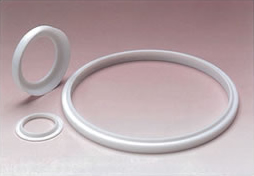 Rubber molded products, composite products
Air Water Mach Inc.'s rubber molded and composite products are used in a wide variety of fields, from consumer electronics to automotive parts and medical supplies. All of our products are made to order according to customers' needs, using advanced technology based on our core compound, metallic mold, and composite technologies. We respond to our customers' needs with the use of high performance products, such as molds made from ultra-resistant polymers and resin concretes with superior resistance.